MA Gender Studies
Gender studies is an exciting area of research, exploring gender relations in the past, present and future. This programme draws on a variety of perspectives to analyse social and cultural phenomena through the lens of gender.
Supported by our Centre for Interdisciplinary Gender Studies, you'll be able to explore approaches from across a range of academic disciplines. You'll learn the principles of conducting research on gender and examine issues that both shape and are shaped by gender relations, such as family roles, reproductive technologies, citizenship, sexuality and culture.
Core modules in gender theory and research will lay these foundations, and you'll build on them by choosing from a range of options on topics such as gender and development, care, gender equality in the workplace, race and sexuality. There has never been a more exciting time to study gender, and this programme will give you an insight into this vital and fascinating field.
Research insight

The Centre for Interdisciplinary Gender Studies at the University of Leeds is at the forefront of gender research, working closely with other research centres within the School and maintaining strong links with universities around the world. It's a welcoming and stimulating environment in which to explore gender issues from a range of perspectives.
Profile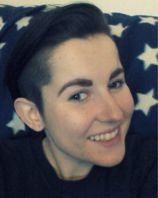 Gender studies at Leeds is great due to the diversity of study. The breadth of theory that underpins modules means it's never boring and I feel privileged to spend time with the texts every day.
Eleanor Broadbent
MA Gender Studies (Research)
Core modules in your first semester will introduce you to research and different theoretical approaches in gender studies.
You'll consider feminist research practices, including ethical and epistemological issues. At the same time, you'll engage with contemporary theoretical approaches to analyse different – and sometimes contradictory – explanations for the source and operation of gender, and how it affects different areas of social life.
These modules lay the foundations of the programme, supporting your learning as you choose from optional modules to focus on specific topics.
This programme will give you strong research skills as well as a broad base of knowledge. You'll put these into practice when you complete a dissertation on a topic of your choice, which you'll submit by the end of the programme in September.
Course structure
These are typical modules/components studied and may change from time to time. Read more in our Terms and conditions.
Year 1
Compulsory modules
Researching Culture and Society

30 credits

Theorising Gender 1

30 credits

Theorising Gender 2

30 credits

Dissertation (Gender)

60 credits
Optional modules
Feminism, Identity and Media

30 credits

'Race', Identity and Culture in the Black Atlantic

15 credits

Contested Bodies

15 credits

Que(e)rying Sexualities

15 credits

Quantitative Research Methods

15 credits

Qualitative Research Methods

15 credits

Policy and Programme Evaluation

15 credits

Power, Critique & Global Transformations

15 credits

Contemporary Issues in Religion and Gender

30 credits
Learning and teaching
We use a range of teaching and learning methods including presentations, seminars, tutorials and lectures, depending on your choice of optional modules. Independent study is also crucial to this degree, as an opportunity to develop your skills and form your own ideas.
Assessment
Assessment methods may vary, depending on the modules you choose. They could include presentations, book reviews, research proposals and essays. We offer plenty of support including feedback on essay plans and draft dissertation chapters and regular opportunities to meet with academic staff on a one-to-one basis.
Career opportunities
This degree programme equips students with transferable skills such as research, analysis and communication, as well as a range of subject-specific knowledge and skills.
Graduates have gone on to further study, or into careers in teaching, policy forums, NGOs, campaigning and activism, and local, national and international agencies.
Careers support
We encourage you to prepare for your career from day one. Thats one of the reasons Leeds graduates are so sought after by employers.
The Careers Centre and staff in your faculty provide a range of help and advice to help you plan your career and make well-informed decisions along the way, even after you graduate. Find out more at the Careers website.